---
---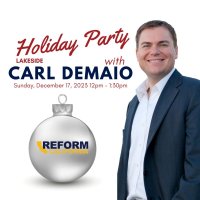 Please join Reform California Chairman Carl DeMaio for this special salute to our dedicated supporters and hard-working volunteers and acelebration of Christmas and the Holiday Season!

Every year Carl DeMaio hosts this Holiday Party for our supportersand volunteers as a way of saying THANK YOU to supporters and volunteers whohelp Reform California wage the fight to take back our state all year long.
Ad paid for by Reform California. Advertisement was not authorized by a candidate or a committee controlled by a candidate.