---
---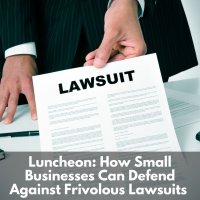 A little-known law in California is being abused by politicians, unscrupulous lawyers, and special interests to shake down our state's already struggling small businesses. Financial losses are mounting, and jobs are being destroyed.
The Private Attorney Generals Act (PAGA) is a California state law that gives private labor law attorneys the right to act as de-facto state law enforcement agents in suing small businesses for alleged "labor law violations." Thousands of frivolous PAGA lawsuits have been filed recently that have resulted in devastating financial losses for small businesses.
If you are a small business worried about getting hit with a frivolous lawsuit, then you are invited to attend a free luncheon sponsored by Reform California where we will discuss ways to protect yourself.
Defend Against Frivolous Lawsuits: Learn how your small business can be proactive in defending itself against these frivolous lawsuits.
Repeal the PAGA Law in 2024: Reform California and a broad coalition of small business advocates are leading a statewide campaign to pass a ballot measure in the November 2024 election to reform frivolous lawsuits. We'll update you on how you can be part of this campaign.
Demand Change at City Hall – and Sacramento: You'll hear about several job-killing bills that could hurt your small business and cost you money if passed. We'll also discuss the continued damage being done by the AB-5 law that bans the use of independent contractors in California.
Luncheon Speakers:
Carl DeMaio – Chairman of Reform California
Tom Manzo – President of the California Business & Industrial Alliance (CABIA)
This luncheon is free, but space is limited to small business owners so RSVP today to reserve a seat!